Jewish Weddings
Traditional or Creative
If you are both Jewish and your families are Jewish, a Jewish wedding, performed by a cantor or rabbi, is the obvious choice, and would probably be the most satisfying experience. You will feel connected to Jewish history and tradition, and your families will be happy. You've probably been thinking about "breaking a glass" for years!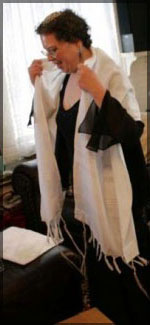 If you are both Jewish, but not observant, you and your families might still find a Jewish wedding the most satisfying. A Jewish wedding will feel familiar, which can be a very good thing on a day filled with change. It will make family members who are more traditional in their observance comfortable. The basic service is already written, so you don't have as much to do. You can use a standard service, you can add readings that have special meaning to you, or you can use a traditional service as a place to start writing your own.
If one of you is Jewish and one is not, but you are planning to have a Jewish home, or raise Jewish children, a Jewish wedding is a good way to start. I suggest you read the rest of the Jewish Weddings section, then click on the Interfaith Weddings tab for more information. I would be happy to talk with you about all your options
"Do we need a rabbi or cantor to have a Jewish wedding?"
Actually, in Jewish law, bride and groom marry each other – no clergy is needed! But state law requires a registered officiant to certify that the marriage has taken place. It is traditional to have a rabbi or cantor lead a Jewish wedding ceremony, and it makes your day much easier, since you won't have to worry about getting everything right or remembering what you decided to do. I have been a cantor for eighteen years, so I am very experienced in leading Jewish weddings. I will help you make sure everything necessary is covered, and my beautiful singing will make the blessings extra special!
Suggested Reading For Couples Planning Jewish Weddings: The New Jewish Wedding, by Anita Diamant; Fireside, 1985. Diamant is Conservative, but she discusses many traditions clearly in an egalitarian way.
"Ketuba, chuppah, kippot, officiant ... how can we afford a real Jewish ceremony?"
If you're on a tight budget, look at The Complete Chuppah®.