Interfaith Weddings
A Ceremony For Both of You
"I am Jewish, but my intended is not. Neither of us is interested in converting. Will you marry us? Can we have a Jewish ceremony? Can you co-officiate with a clergy person of another faith? If we decide on a non-Jewish religious ceremony, performed by a non-Jewish minister, can you help us add some Jewish elements?"
The answer to all these questions is YES. I will be honored to marry you in a Jewish ceremony, an interfaith ceremony, or a civil ceremony, whichever you wish. I can design a Jewish ceremony that includes elements of both your religions. If you wish, I will co-officiate with any clergy person you choose. If you don't have someone lined up, I have the names of some wonderful, non-Jewish clergy we can call. If you are having a wedding in another religious tradition, but want Jewish clergy to perform some key elements, I will be happy to join in. Both of you should feel your traditions and feelings are respected.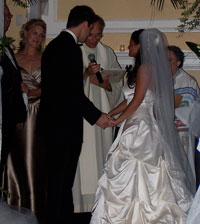 "Can we put together an interfaith ceremony that satisfies both of us and our families? Can you help us explain our interfaith ceremony to our families?"
Yes, we can put together a ceremony that is meaningful to both of you. I have spent many years working with non-Jewish clergy, and understand the traditions of many religions very well. Together we can create a ceremony that is respectful to both of you, and to your families. You can write a ceremony of your own, you can put one together using any religious and spiritual elements that are meaningful to you, or you can start with a Jewish ceremony and modify it however you wish. It's your wedding, and everything in it should give you joy.
You will be spending the rest of your lives with your relatives, and you want to avoid conflict with them on this special day. If your families are unsure about your choices, or if they want to understand them better, I can help you explain your decisions in a non-judgmental way.
Suggested Reading for Planning an Interfaith Wedding: Celebrating Interfaith Marriages, by Rabbi Devon A. Lerner; Holt, 1999. A very sensible and non-judgmental look at putting together a beautiful Jewish/Christian ceremony. I think any interfaith couple would find it encouraging.