The Complete Chuppah®
A Complete Jewish Wedding Ceremony in an Affordable Package
"Ketuba, chuppah, kippot, officiant ... how can we have a simple, affordable, real Jewish ceremony?"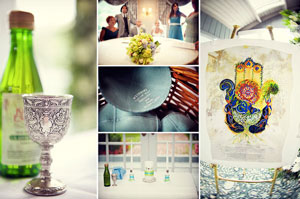 Perhaps you're on a tight budget, and don't have much money for a ceremony, or you would rather spend your money on other things. Or perhaps, with your busy lives, you'd like a simple, elegant Jewish ceremony that doesn't require a lot of planning.
The Complete Chuppah® can save you time, effort, money, and stress. A simple ketuba, chuppah, kiddush cup, wine, a glass to break, kippot (yarmulkes) for all the men in the party, a script for the ceremony, and, of course, my services are all included in one affordable price. I can even provide recorded music for the procession. I bring everything you need except the rings, witnesses, and state marriage license.
To prepare for the ceremony, we can meet on the phone, or in person. I'll email you a list of easy questions to answer at your convenience. Then we'll email or phone to make travel arrangements and answer any questions. On your wedding day, I'll be there well before the ceremony, to direct the signing of the ketuba, run a short rehearsal, and lead you through the service.
The Complete Chuppah® allows you to choose any date for your wedding. You can plan for the future, or even get married right away, because most of the work of arranging the ceremony is already done. We'll use a beautiful service which I'll personalize for you. The ceremony can take place anywhere you wish, so you don't have to worry about hiring a banquet hall.
The Complete Chuppah® is much less expensive than putting everything together yourself! When you add up the average cost of everything required for a Jewish wedding ceremony, you could easily pay more than $2,000. With The Complete Chuppah®, you pay less than half!